Widex Hearing Aids in Hitchen, Harpenden & Luton
The latest hearing devices from Widex at the very best prices
Trusted Independent Provider of Hearing Aids in Herts, Beds, Bucks & London.
Considered as one of the trusted names in Independent hearing healthcare in England. Providing the very latest hearing aids at the best prices across the South east.
Providing Home Hearing Tests across Herts, Beds, Bucks, Essex & North London
A Premium Danish Hearing Device Brand
Widex is one of the hearing aid manufacturers in the world that is seen as a premium brand. Since their beginning, they have very much done things their own way. The Widex sound is famous across the hearing aid profession and it is said that a Widex hearing aid user will never be happy with any other hearing aid. In my experience and probably the experience of many hearing health professionals, that has been very true. Widex were the first hearing aid brand to introduce live machine learning to their hearing aids with the introduction of the Evoke in 2018.
Widex's range of hearing solutions offer connectivity, advanced technology and a wide variety of styles to suit all hearing loss types and lifestyles. Widex hearing aids are renowned for the Widex Sound, which is generally regarded as the most natural sound in the industry, to allow you to hear the broadest spectrum of sounds possible. Widex hearing aids are designed specifically so we can fit to your individual requirements for a listening experience which is always unique to you.
Environmental Awareness / sustainability
Widex is the only CO2 neutral hearing aid producer in the world. The Widex headquarters are powered entirely by renewable energy, utilising a combination of wind energy, solar energy and recycled rainwater, along with a geothermal system which uses groundwater to store an entire year's worth of heating and cooling. Widex hearing aids are not just great for your hearing, but great for the planet too.
Call Us Today for a Hearing Assessment
Call now for your no obligation assessment
Widex launched their new flagship platform at the beginning of September 2022. The new Moment Sheer hearing aids are Widex's latest offering. However, they don't fully replace the exisiting Widex Moment range that you can read about below. 
The new range is currently only available in a rechargeable RIC hearing aid model ( sRIC R D). While the Moment is available in an expanded RIC range and BTE and ITE device options too. We would imagine, and based on previous launches, this will probably change during 2023.
Until then, this is the admittedly limited pinnacle of Widex design. The sRIC R D is suitable a range of hearing losses and will offer superb sound quality, something that Widex is famed for. Widex say that the Moment Sheer is the perfection of natural sound. With an upgraded PureSound system onboard, we can probably believe that.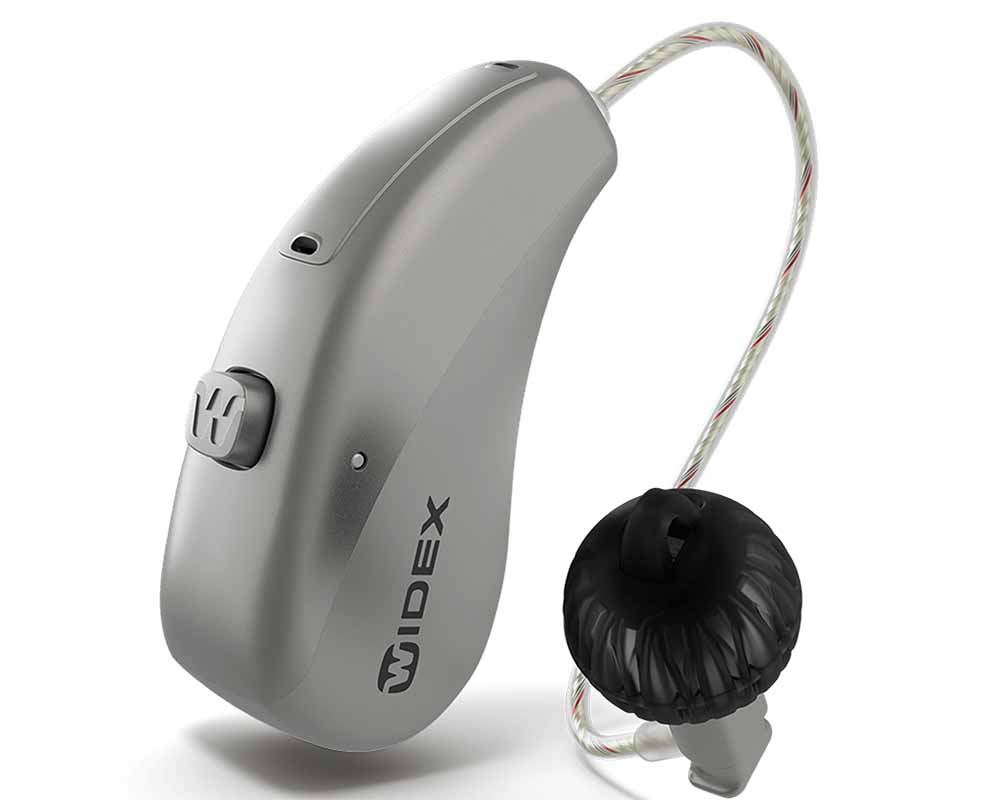 The device itself is similar to the mRIC R D that it replaces, but there are subtle differences. Widex Moment Sheer sRIC R D is a direct streaming hearing aid and can be connected with 2.4 GHz Bluetooth connectivity to both iOS and Android devices. It will also connect to Widex streaming accessories such as  Widex TV Play and other DEX accessories.
The real differences are software based and involve some upgrades to their outstanding MySound personalisation. With the additional parameters in their MySound technology you now have more control of how you hear wherever you are.
The charger for the new sRIC R D is also newly designed. Again, similar to the old charger but with some design changes. The battery in the aids can be expected to last for 29 hours on a full charge if not connected for streaming. With eight hours of streaming, they say it will last you 16 hours. That's a lot of power in a very small, attractive package.
Widex Moment Hearing Aids
Widex introduced the Moment platform worldwide in 2020 and it was the first time that the signal processing on a hearing aid would have zero delays. That means it offers the most natural sound experience ever for any hearing aid user. It also makes hearing aids easier to wear for both new and existing hearing aid users. The Moment platform comes in nine hearing aid types across the usual four levels of technology from Widex, the premium 440, upper mid 330, lower mid 220 and the entry-level 110.
The Moment is the first hearing aid that offers no delay in signal processing. Up to the introduction of Pure Sound, that wasn't possible. Without a doubt, it is a paradigm shift in hearing aid sound. The Moment offers zero delays, which means a natural delivery of processed sound at the eardrum. That translates to a very natural sound experience. Widex say that the Moment is the most natural-sounding hearing aid ever produced, and technically it should be.
Every hearing aid suffers a delay in signal processing, in essence, it takes time to process sound and present it at the eardrum. While sound that enters the ear canal normally doesn't, leading to an out-of-sync signal. If the signal delay is 11 milliseconds or over, it produces an intolerable echo. Under 11 milliseconds the echo is still there but is tolerable and eventually, the brain will blend it out.
That signal delay ensures that hearing aids sound like hearing aids. The brain perceives the delay and the sound is perceived as abnormal. Over time, the brain normalises the sound to a large extent, but it is never what you would call natural. Below is a graph presented by Widex detailing sound delays, the sound delay of some competitors, their own Evoke range and the new Moment range.
As I said, nine hearing aid models, three Receiver In Canal hearing aid models, three In The Ear hearing aid models and three Behind The Ear hearing aid models. The Receiver In Canal models are the RIC-10, which is the updated replacement for the Passion. The RIC 312D replaces both the Fusion and the Fusion 2 and the new mRIC-R D which is a lithium-ion powered Mini Receiver In Canal hearing aid.
The RIC-10 (runs on a size 10 battery) is a very discreet device and the Passion it is based on was amazingly popular. The device is very small, so it doesn't have a telecoil onboard nor is it Bluetooth enabled. Although they are wireless and can access loop systems and stream audio from other sources via a Dex (an add on streamer available from Widex).
The RIC-312D (runs on a size 312 battery) is the same size and shape as the Fusion and Fusion 2 which it replaces. It is a hugely versatile RIC that will cover hearing losses down to severe to profound. It has a telecoil onboard and the new upgraded Bluetooth radio that is Made For iPhone compatible and ready for Made For Android.
The new mRIC R D is a very discreet lithium-ion powered rechargeable RIC. It is a very versatile RIC which will cover hearing losses down to severe to profound in nature. It offers a telecoil and the new Bluetooth radio which offers a direct connection to iPhones and other Apple products and ready for Made For Android. Widex say that it is the smallest rechargeable RIC available on the market. The device looks about the same length of the RIC 10 but wider at the bottom.
The device offers twenty hours of use with one charge and sixteen hours of use with streaming. Widex introduced a new charger they have called the Charge N Clean. The device is an excellent idea, it allows you to charge your aids, dry them out with some heat and kill of any viruses with UV-C. The Chrage N Clean comes in two models, one for the rechargeable RIC and one for the rechargeable BTE. They say; Take better care of your Widex rechargeable hearing aids with Widex Charge n Clean.
The 3-in-1 charger offers:
4-hour charge for full day use – 30-min charge for 4-hour hearing aid use
UV-C LED treatment eliminates up to 99.99% of bacteria, yeast and viruses
Temperature stabilization throughout the charging process to ensure optimal battery performance (as recommended by battery manufacturers).
The three In The Ear hearing aids are the IM, the XP and the CIC. None of them has a telecoil, although they can access loop systems via a Dex. None of them is Bluetooth enabled although they are wireless and can connect to the Widex Dex accessories for streaming audio.
The IM is powered by a 312 battery and has a programme button as an option. It will cover moderate to severe hearing loss. The XP is powered by a 312 battery, it will not offer a programme button option and again it will cover moderate to severe hearing losses. The CIC is powered by a size 10 battery, it will not offer a programme button and again will cover pretty much the same hearing losses.
The absence of a programme button means that you will not be able to access any extra programmes unless you have a Remote Dex or use the Tonelink app on your smartphone.
The BTEs are the BTE 312, powered with a 312 traditional battery, which is wireless, but not Bluetooth, the BTE 13D, powered by a size 13 traditional battery, which is Bluetooth enabled, and finally the BTE R-D which is both rechargeable and Bluetooth enabled. The introduction of the BTE devices offers more options for people and Widex BTEs are renowned for longevity and reliability. In fairness, Widex aids in general are renowned for reliability and longevity.
The Moment will be available in the usual four levels of technology, the 440 at the top and the 110 at the entry-level. Even the 110, is a splendid entry-level device that will produce pretty good results although it will not have access to the SoundSense machine learning feature.
Looking For A Hearing Test in Luton, Hitchin or Harpenden?
Providing Hearing Tests across Herts, Beds, Bucks, Essex & North London.
We provide free, best practice hearing assessments in oour clinics in Luton, Hitchin, Harpenden & home visits across Herts, Beds, Bucks, Essex & North London. Simply call 0800 999 5992 or click the button below to book online.