Phonak Hearing Aids in Hitchin, Harpenden & Luton
The latest hearing devices from Phonak at the very best prices
Trusted Independent Provider of Hearing Aids in Herts, Beds, Bucks & London.
Considered as one of the trusted names in Independent hearing healthcare in England. Providing the very latest hearing aids at the best prices across the South east.
Providing Home Hearing Tests across Herts, Beds, Bucks, Essex & North London
The Newest and The Best Hearing Aids From Phonak
Phonak are a Swiss hearing aid manufacturer owned by a company called Sonova. They have been manufacturing hearing aids for over half a century and can be found in over 100 countries around the world.
Their latest offering is their new Lumity range, but if you are looking for an In-The-Ear device, you will have to go for their slightly older, but excellent, Paradise range. I will discuss both below.
Phonak has been recognised as a premium brand for many years and many see them as the leaders in Bluetooth hearing aid technology because of their outstanding connectivity.
Phonak's connectivity system is called Made For Any Phone. In effect, the hearing aids will pretty much connect to any phone with Bluetooth for calls and audio streaming. They should also connect to most tablets, laptops and even TVs.
For audio streaming, the system uses a version of the classic headset protocol. It can be a power hungry protocol, but Phonak has striven to ensure that battery life is kept to a maximum. The one huge benefit that their protocol offers is hands free phone calls. Your family call, you answer the call with a simple press on your hearing aid and simply talk away. The microphones on the hearing aids pick up your voice and stream it back to the caller.

Call Us Today for a Hearing Assessment
Call now for your no obligation assessment
Phonak Lumity Hearing Aids
Phonak has launched their new hearing aid platform, which they call Lumity. The initial hearing devices launched on the new platform will be their Audeo Receiver In Canal devices which consists of three Receiver In Canal model all of which are rechargeable devices. It appears that there may be no traditional zinc-air battery-powered RIC devices on the Lumity platform as Phonak says, Meet the first fully rechargeable product range from Phonak.

There will be just three separate Receiver In Canal models, all of which are rechargeable and Made For Any Phone, available immediately. There are the Audeo L-R, an Audeo L-RT (which has a telecoil), and an Audeo Life Lumity. This is what they have to offer:
Built-in rechargeable hearing aid
Mild to profound hearing loss
Health data tracking**
Direct connectivity to iOS and Android
Tap Control
Built-in rechargeable hearing aid
Mild to profound hearing loss
Health data tracking**
Direct connectivity to iOS and Android
Tap Control
Telecoil
Built-in rechargeable hearing aid
Mild to profound hearing loss
Health data tracking**
Direct connectivity to iOS and Android
Tap Control
Waterproof
The new hearing aids have an upgraded central management system called AutoSense to 5.0. AutoSense manages all of the other features, deciding what needs to change to ensure you hear your best as the sound around you does. Phonak has continually upgraded its management system as advances in chipsets and both Artificial Intelligence and Machine Learning in audiology increase.
SmartSpeech Technology
Phonak has introduced a new upgraded speech-focused technology that they are labelling SmartSpeech on the Lumity platform. The technology consists of two changes in the aids themselves and the use of the external Roger system. You still get the benefit without a Roger device, they have just included it in the concept of SmartSpeech Technology.
StereoZoom 2.0
The aids themselves have upgraded and changed the parameters in their proprietary directionality strategy StereoZoom 2.0, They have also changed the implementation of that feature with an upgraded sound scene analysis system focused on speech that they call SpeechSensor. Sound scene analysis is the analysis system that monitors and analyzes what is going on in the world. The changes here will allow a better perception of speech.
Phonak says that the new Stereozoom 2.0 enables better speech understanding from the front by 16% in a noisy environment. The SpeechSensor feature combined with StereoZoom 2.0 will also deliver 15% better speech understanding from the back and sides.
SpeechSensor
SpeechSensor is an automatic feature that is designed to provide 360-degree speech detection by monitoring your surroundings for speech. It assesses the main speech source and adjusts the aid's microphone modes to ensure that you have more access to speech from the back and sides.
Two Types of Chargers
The Lumity is introduced with a new shape charger for the L-R and L-RT and the Charger Case Go for the Audeo Life. The Audeo Life is going to be the slightly dearer model, however, the Charger Case Go may be worth that extra money if you are an active, on-the-go type. The Charger Case Go can charge the Life aids three times without plugging in.
myPhonak App
As with the platforms before it, Lumity pairs with the myPhonak app, the app gives you the ability to make adjustments on the go and create customised programs. The app also allows you to track personal health data, including step count, wearing time, activity levels, distance walked and ran, and optional goal setting. In addition, myPhonak app allows you to connect directly with a hearing care professional who can remotely assist in personalising their hearing experience.
Phonak Paradise Hearing Aids
Phonak's last platform was the Paradise rang which was launched in August 2020. The first hearing aid styles to be launched were the Audeo (Receiver In Canal) Paradise range, but were followed over the next year by the Naida Paradise range (BTEs) and the Virto Paradise range (ITEs). If you are in the market for a Phonak BTE or ITE, well then the Paradise range is for you.
Four Technology Levels
Paradise technology is available in four technology levels, the 90, the 70, the 50 and the 30.
Motion Sensor Hearing
Paradise offers motion sensors onboard the rechargeable hearing aids. The motion sensors are used to help the hearing aids understand if you are in motion. If you are in motion and having a conversation with someone, the aids understand that and change how they work to help you hear them better.
Two Active Bluetooth Connections
Bluetooth enabled Paradise aids built upon the Marvel features with increased and in-depth Bluetooth connectivity with an active connection to two Bluetooth devices. That means you can easily switch between two connected mobile phones or your mobile phone and your tablet without any fuss. This was a bugbear for some Marvel users who would have to disconnect from one device to connect to another. The Paradise allows for 8 Bluetooth®-enabled devices to be paired, while 2 can be simultaneously connected.
Tap Control
The Tap Control feature allows users to activate popular voice assistants, answer or reject calls, or even pause or resume audio streaming by simply tapping on their ear. Phonak is using the new motion sensors to power the feature. It means that you can do more with your hearing aids without worrying about the buttons.
A Whole New Sound
The Paradise hearing aid range is the first hearing aid range to benefit from Sonova's new sound processing chip, PRISM (Processing Real-time Intelligent Sound Management). The new chipset allows a host of newly developed hardware and software features to help you rediscover the wonders of sound from the moment they are fit.
The hearing aids deliver crisp, natural sound in any environment, in quiet situations, soft voices over distance are enhanced by the new speech enhancer feature. The new Motion Sensor Hearing allows the hearing aids to detect when you are moving while having a conversation. It will automatically adjust the directional microphones to focus on the direction of speech.
A New App
The new upgraded myPhonak app will provide Paradise wearers with more control over how they hear thanks to a new personalized noise cancelling feature.
Virto Paradise Hearing Aids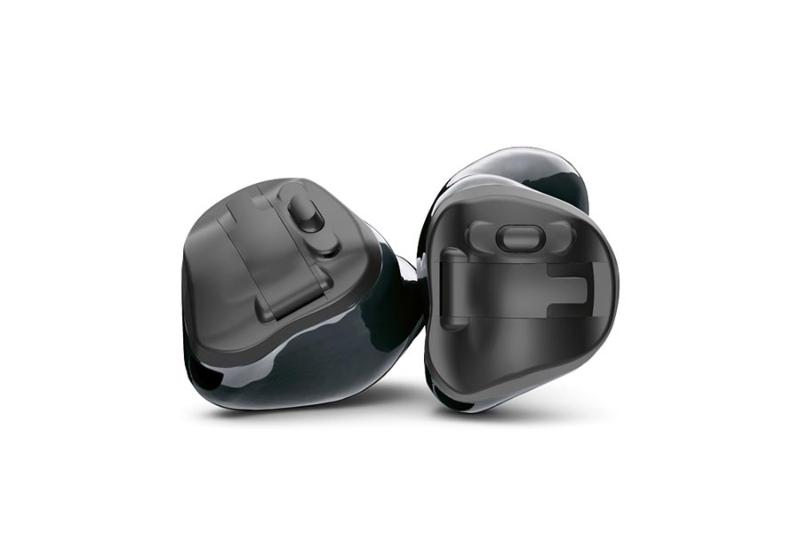 The Virto Paradise range includes a Paradise Titanium, two Paradise CIC devices, one with a size 10 battery and the other with a size 312, a Bluetooth enabled In The Canal/Half Shell model powered by a 312 battery and the Virto Paradise Black which you can see above, basically the same as the 312 In The Canal/Half Shell model but with a black case. Most are available across the full range of technology levels.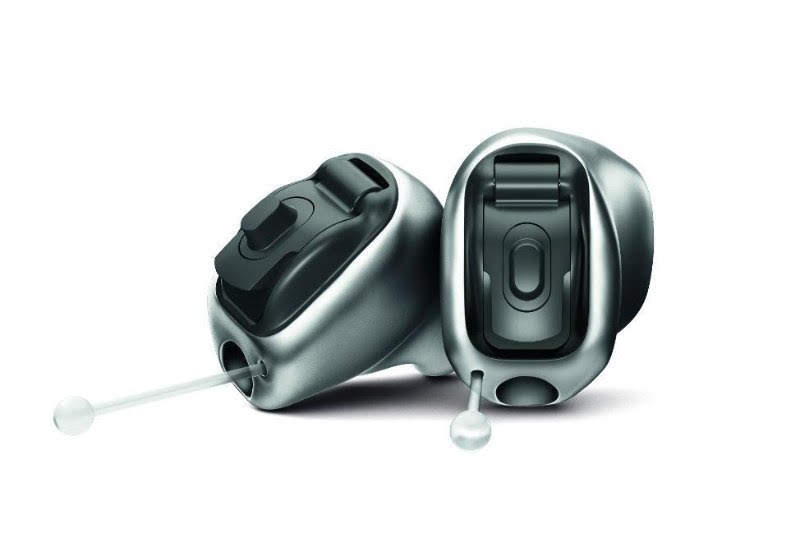 The Titanium is always worth mentioning, it is the only in the ear hearing aid available with a robust titanium shell.
The Virto Paradise Titanium invisible hearing aids are only available across the top two levels of technology. The Paradise Titanium will not have any connectivity.
Custom Product
Titanium Shell
Mild to severe hearing loss
Battery: 10 zinc air
Truly invisible
Non Wireless
Omni-Directional
Naida Paradise Hearing Aids
Smaller, Lighter, Even More Features
The new Naída Paradise devices are 14% smaller, 27% lighter, and packed with Paradise features and technology including next-level, powerful sound, industry-leading connectivity and a new custom program memory feature which will be introduced soon with the new myPhonak 5.0 app.
Two Models, One Rechargeable
The new Naida Paradise platform is made up of two Behind The Ear Models, a Naida Ultra Power which is powered by a 675 battery and a Naida Rechargeable Power hearing device. The Naída Paradise UP model features a powerful double receiver that delivers up to 141 dB of peak gain and up to 130 dB in the rechargeable model.
Audeo Paradise Hearing Aids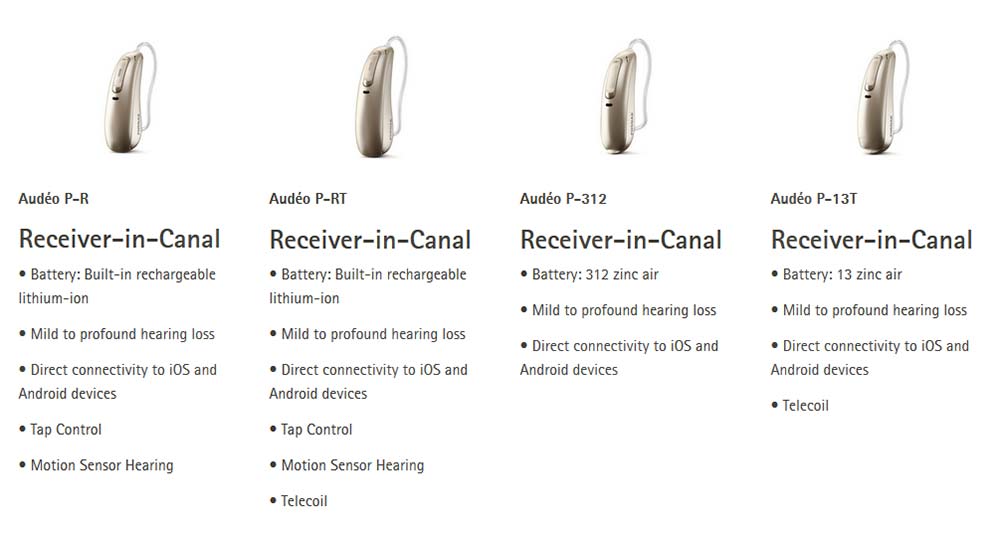 The Audeo Paradise range is made up of four Audeo hearing aids, two rechargeable hearing aids and two traditionally powered hearing aids. It is important to note that only the rechargeable devices have the new motion sensor feature and also the tap control. The new PRISM chip also allows the speakers in the Audeo range to be a little bit more powerful meaning they will cover more hearing losses than ever.
Looking For A Hearing Test in Luton, Hitchin or Harpenden?
Providing Hearing Tests across Herts, Beds, Bucks, Essex & North London.
We provide free, best practice hearing assessments in oour clinics in Luton, Hitchin, Harpenden & home visits across Herts, Beds, Bucks, Essex & North London. Simply call 0800 999 5992 or click the button below to book online.