Signia Hearing Aids in Luton, Hitchin & Harpenden
The latest hearing devices from Signia at the very best prices
Trusted Independent Provider of Hearing Aids in Herts, Beds, Bucks & London.
Considered as one of the trusted names in Independent hearing healthcare in England. Providing the very latest hearing aids at the best prices across the South east.
Providing Home Hearing Tests across Herts, Beds, Bucks, Essex & North London
The Newest & Best Hearing Aids From Signia
Innovative. Forward thinking. Attacking stigma. Just some of the words used to describe the Signia brand. Signia is built on over 140 years of audiological innovation and since its inception in 2016, Signia has already brought several "world first" solutions to the market, establishing itself within the top three hearing aid manufacturers in the world. Signia is also leading the way in rechargeable lithium-ion hearing aids with built-in Bluetooth technology, allowing wearers to say goodbye to changing fiddly batteries.
Signia enjoys pushing the boundaries of hearing care to meet and exceed wearer needs, delivered through hi-tech functionality, natural sound and sleek, comfortable styles. A great example of this is found in Signia's NEW, game changing hearing platform – Signia IX. IX hearing aids are the world's first to contain two seperate sound processors to deliver an outstanding experience in background noise situations.
They also offer acoustic-motion sensors, offering you a way to experience crystal-clear sound whenever you are on the move. With sound-scaping features tailored to your personal hearing needs,
AX allows you hear what matters to YOU! Of course, Signia also
delivers tools and apps to maximise your hearing, all at the convenient
touch of a button!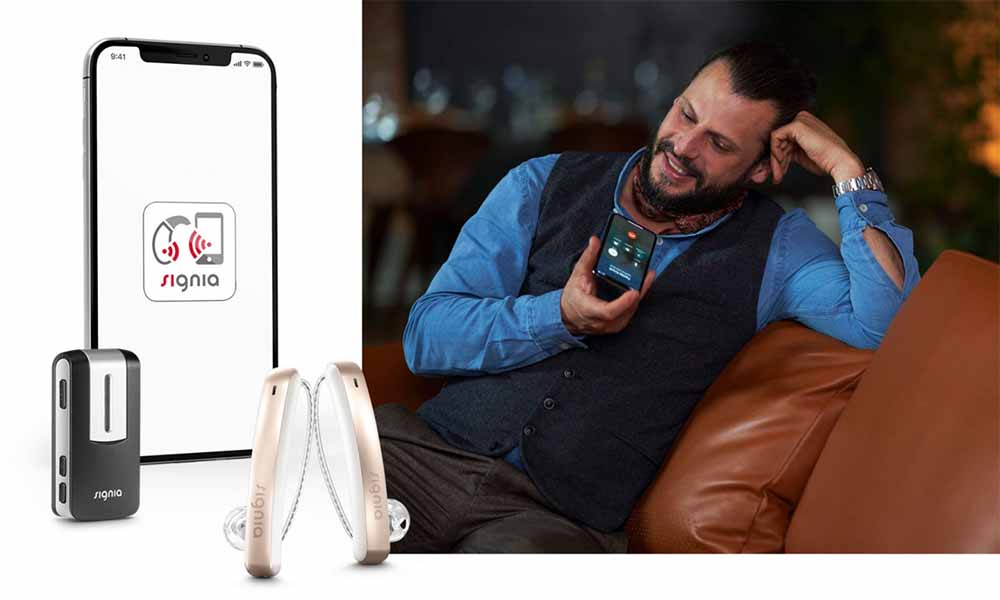 Signia may well be in its infancy as a brand, but behind the brand are the same brilliant minds, values and skills that have always existed throughout its Siemens Hearing Care's extensive, rich history. A dedication to helping to improve the lives of the hard-of-hearing has always been (and will always be) the driving force behind their consistently brilliant and innovative technology.
Call Us Today for a Hearing Assessment
Call now for your no obligation assessment
Signia believes that their IX hearing aids  can help you to hear well in those busy background noise situations that most people with hearing loss find difficult. With two sound processors designed to process speech and noise separately simultaneously, they believe it will allow you better focus on what you want to hear and a more comfortable hearing experience. Built upon the foundation of their Xperience range, the new IX platform offers an Integrated Xperience. Signia say that the devices offer a truly unique hearing solution within their best devices ever. That's less hearing strain and clear speech in conversation wherever you find yourself. 
The AX range is available in three levels of technology and a huge range of device types, ensuring that there is the right one for everyone.
Extensive Hearing Aid Device Choice
The IX range offers an exhaustive list of different device types, with many being rechargeable hearing aids. That includes their In The Ear offerings, the Insio (Signia's ITE devices name)devices have motion sensors and are both rechargeable and Bluetooth, offering the massive benefits of the IX platform in a discreet custom experience. The devices you want, with no compromise.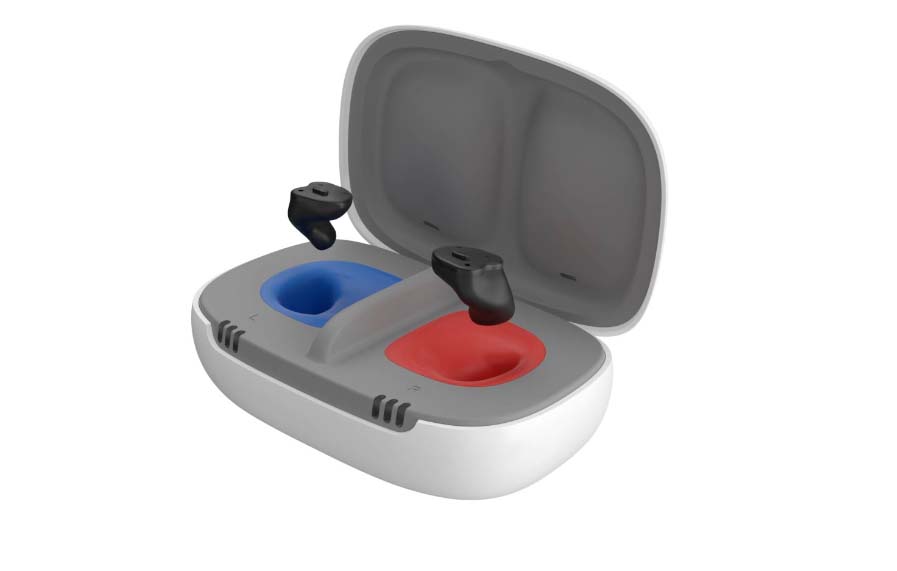 Tailor-made to suit each user's individual ear anatomy, these custom devices offer all-day comfort. Insio Charge&Go IX hearing aids are built on Signia's cutting-edge Integrated Xperience platform to deliver outstanding speech clarity in immersive environments. They even include those motion sensors to adapt their sound optimally to the your situation by detecting if you are moving or stationary. Insio Charge&Go IX boasts a wealth of additional innovative high-tech features that allow you simply get on with your daily life.
These are the first custom hearing aids with Li-ion contactless charging. You simply place Insio Charge&Go AX in the Insio Charger without having to worry about any exact charging contact, charge them while resting or sleeping, and then go. Ttrue to their name, you can keep going throughout the day with up to 20 hours of use on a single charge.
Android and IOS Connectivity
Insio Charge&Go IX also offer state-of-the-art Bluetooth connectivity for Android and iOS devices. So you can easily stream your phone calls, music and TV audio via your custom hearing aids. You can also connect to the Signia app and its star attraction: the Signia Assistant with its live deep neural network AI for the most personalized augmented hearing experience.
The Signia Pure (Signia's name for Receiver In Canal hearing aids) offers both traditional battery and rechargeable options. It also provides for asymmetrical or unilateral hearing loss with outstanding CROS options.No matter which is right for you, they offer truly discreet best in class hearing with all of the outstanding AX platform features and benefits. It also comes as a Telecoil version which is slightly larger than the standard version.
Pure 312 and Pure Charge&Go IX are ideal solutions for experienced and first time hearing aid wearers who are looking for a sleek aesthetic device that is fully featured. The Charge&Go IX combines an attractive design with proven rechargeability, state of-the-art Bluetooth connectivity for Android3 and iOS, and the landmark AI of the Signia Assistant. The 312 device offers all of the same in an even smaller device format.
The Pure Charge&Go is available with, or without a telecoil. Both models come with a compact charger with the option to upgrade to a portable or a Dry&Clean charger. The Li-ion power cell of Pure Charge&Go IX delivers up to 24 hours of use on a single charge including 5 hours of streaming for complete flexibility on the move. The impressive Li-ion power cell of Pure Charge&Go T IX delivers up to 36 hours of use on a single charge including 5 hours of streaming. So you are likely to run out of steam, long before your hearing aids will.I
Styletto IX rechargeable hearing aids looks as amazing as they sound. Their award-winning SLIM-RIC design is the smallest ever for an even
more discreet fit. Built on their leading-edge Augmented Xperience platform, Styletto IX uses their proprietary Integrated Focus™ technology
to split speech from surrounding sounds, process them separately, and recombine them to deliver outstanding speech clarity in an immersive
environment. Styletto AX gives its wearers the speech clarity they need with the hearing aid features they want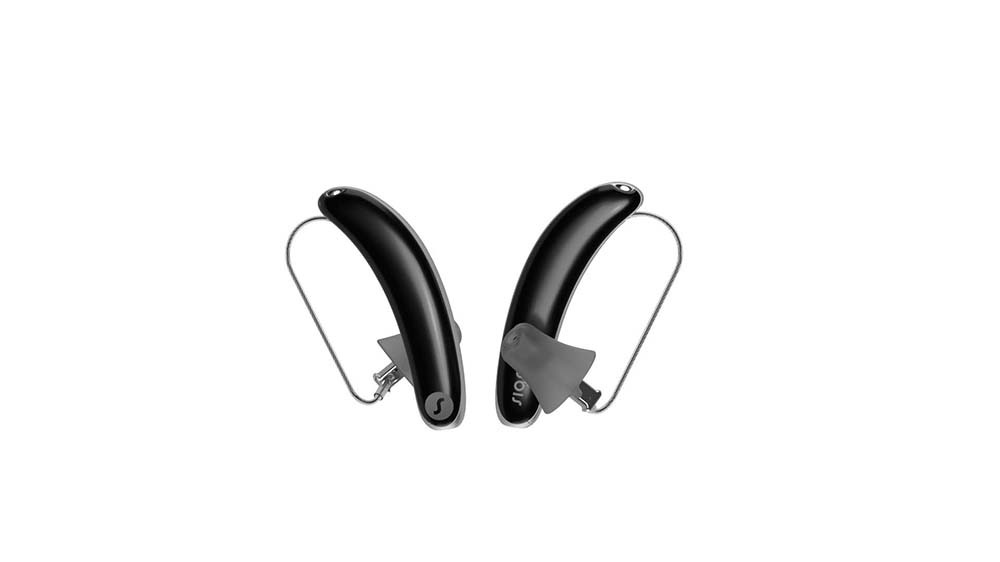 Users can recharge their Styletto AX hearing aids at home or on-the-go for up to 17 hours of use per charge. The pocket sized charging case's Qi wireless technology enables you to simply place the charger on a charging pad instead of having to plug it into the mains. Wherever you're going, Styletto AX goes with you. And goes and goes – the charging case delivers an astounding 4 days of use without the need to charge the case.
Android & IOS Connectivity
Styletto AX offers state-of-the-art Bluetooth connectivity so you can connect to your Android or iOS device to stream phone calls, music, TV and more in high-quality digital sound. You can also connect your hearing aids to the Signia app, which features groundbreaking artificial intelligence (AI) via the Signia Assistant.
Signia Silk IX - Worlds first Rechargeable Invisible hearing aid.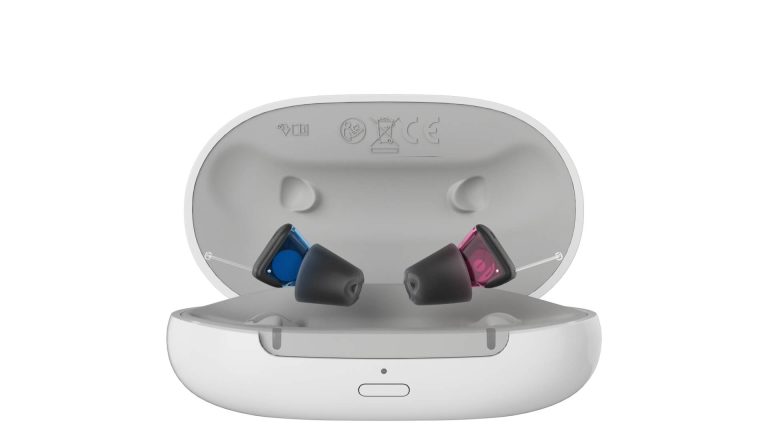 Silk Charge&Go IX is so tiny and snug that many people will not even notice you are wearing it. Powered by advanced hearing aid technology that helps you hear in noisy environments; Silk is designed to fit your lifestyle. It is small, comfortable, and easy to recharge. You can control it with a simple app on your phone.
Available in two colors, mocha and black.
With a soft textured surface to avoid reflections for added discretion, its designed with you in mind.
The unique discreet ready-to-wear hearing aid offers:
Instantly fit with new ultra comfortable EarWear 3.0 or fit with custom mold
Access controls with My Signia app via acoustic pairing or via miniPocket remote control.
Looking For A Hearing Test in Luton, Hitchin or Harpenden?
Providing Hearing Tests across Herts, Beds, Bucks, Essex & North London.
We provide free, best practice hearing assessments in oour clinics in Luton, Hitchin, Harpenden & home visits across Herts, Beds, Bucks, Essex & North London. Simply call 0800 999 5992 or click the button below to book online.